SWAT 4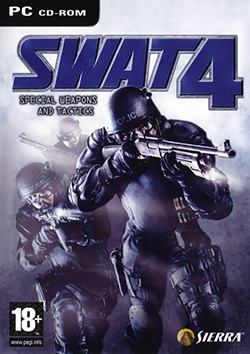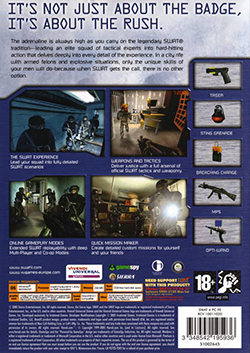 Series: SWAT
Released: April 5th 2005(PC-Windows)
Developer: Irrational Games
Publisher: Sierra Entertainment / Vivendi universal
SWAT 4 by Irrational Games is the follow up to SWAT 3: Close Quartes Battle from Sierra. Was published on April 5, 2005and it carries on the tradition of you being in charge of an elite force that is tasked with bringing order to chaos. Irrational chose to build a new engine called Vengeance based around the Unreal 2.0 technology. They also chose to move the placement of the missions from the LA area to NYC and set it in 2008-2009.
It was noted that the game was also pitched with some more dynamic taglines such as 'It's not just about the badge, it's about the rush.'
The game however delivered a similar experience to SWAT 3, and allowed you to use tactical equipment and non-lethal force as before.
Gameplay
Single Player
As with previous SWAT games you are rewarded for completing mission by safely rescusing hostages, disarming explosive and bringing in the bad guys unharmed. You are once again the head of a five man Element and are required to use your team effectively, with the ability to control a red team and a blue team consisting of two officers each. This allows for a broad range of options on how to deal with the situations that arise, not least dual door entry to a lock and besieged room.
Multi Player
The original modes for mulit player have made their return and Irrational have thrown in a mode of their own called VIP Escort, where you have one member of your team marked out as important and it is your job to ensure their safety. The aim being to get them to an extraction point.
Current Status
SWAT 4 recieved an expansion pack in February 2006 called the Sketchov Syndicate, however they have both fallen victim to time and are seldom played now.